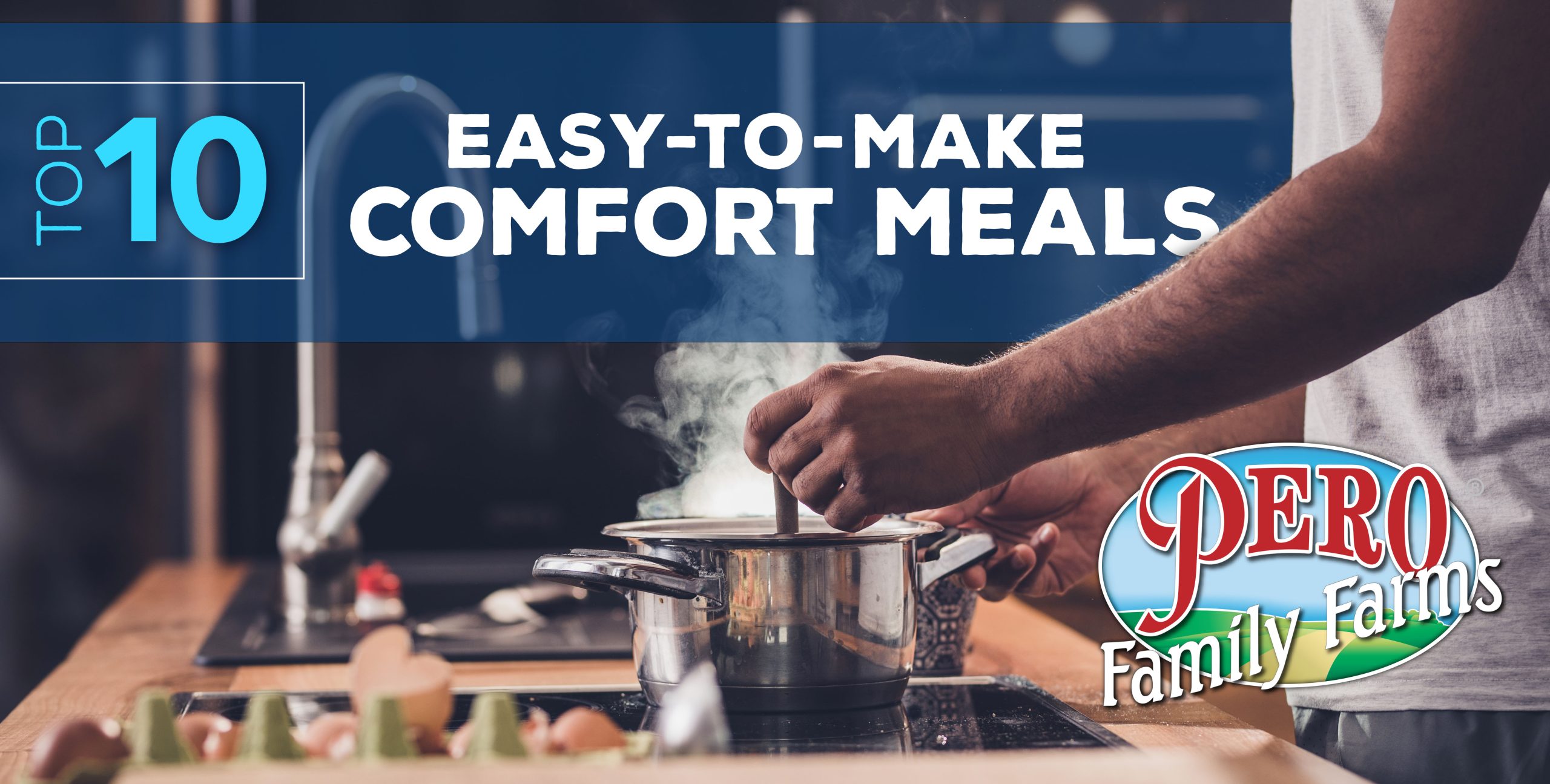 February is the perfect month for cozy comfort meals that warm the soul and nourish the body. And what better way to add some extra nutrition and flavor to your comfort meals than by using fresh, high-quality vegetables from Pero Family Farms? Today we are sharing our top ten cozy comfort meals that feature some of our favorite Pero Family Farms vegetables. Click the recipe name to get all the delicious details!
Philly Cheese Steak Stuffed Mini Sweet Peppers: These bite-sized peppers are perfect for stuffing with your favorite fillings. Try a mixture of seasoned steak, onions, and cheese for a hearty snack or appetizer.
Chicken & Veggie Pot Pie Soup: Nothing says comfort like a warm bowl of creamy soup. This recipe calls for Pero Family Farms Vegetable Medley, along with a few other simple household ingredients for a quick, comforting meal.
Green Bean Casserole: A classic comfort food that can be made even better with fresh Snipped Green Beans from Pero Family Farms.
Penne Primavera: Finished off with a simple sauce and topped with parmesan cheese, this easy meal will quickly become a family favorite.
Italian Wedding Soup: This veggie-packed take on a cozy Italian Wedding Soup will have the whole family scooping up seconds.
Mac & Peas: What screams comfort food more than a big bowl of mac and cheese? Try this elevated kid-friendly classic that adds some nutrient-dense color with Pero Family Farms English Peas.
Vegetable Lasagna Roll Ups: This comforting dish is a great way use Pero Family Farms fresh Snipped Green Beans in a fun twist on traditional lasagna.
English Pea Risotto: If you love creamy risotto, you'll love this quick and easy recipe with Pero Family Farms English Peas.
Chicken & Veggie Ramen Noodle Bowl: Nothing says cozy like a big bowl of vegetables and noodles. Check out this recipe, loaded with fresh veggies and chicken for the ultimate comfort food.
Broccoli Mac & Cheese Bites: Toss these in the air-fryer for a quick and cozy appetizer or side dish.
All these recipes are easy to make and perfect for a cozy night at home. And by using Pero Family Farms vegetables, you can be sure that you're getting the freshest, highest-quality ingredients to make your meals even more comforting.
If you want to win a FREE Cozy Comfort Kit from Pero Family Farms, enter our sweepstakes here: www.perofamilyfarms.com/cozy-comfort 
More Fresh Topics