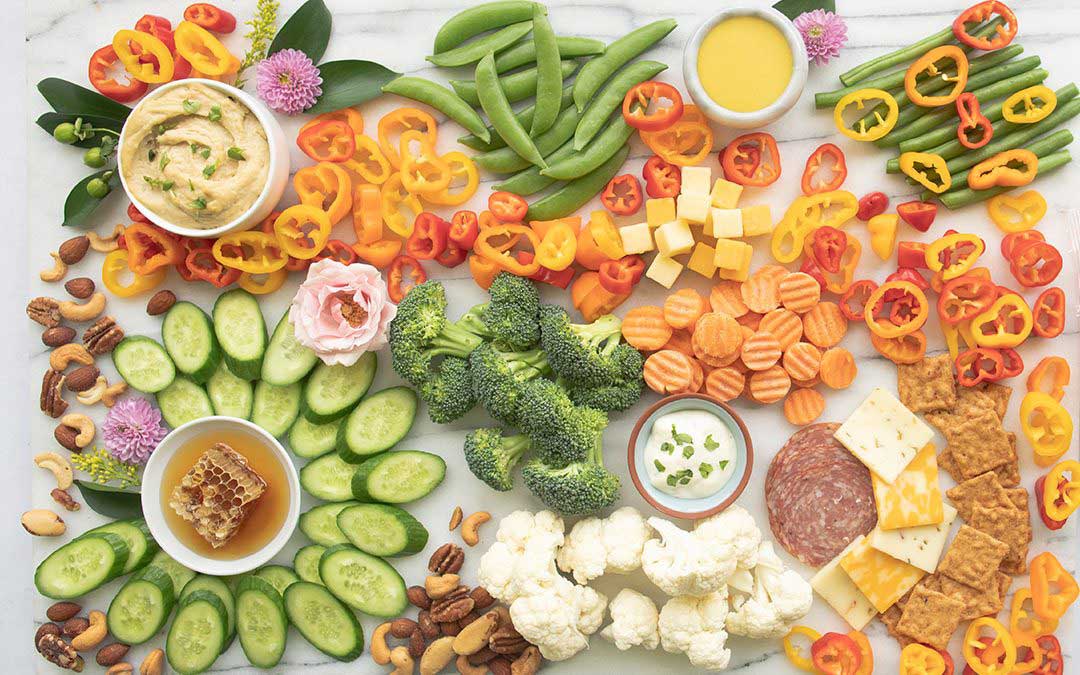 We've all seen the snack board trend taking over our social media newsfeeds. Perfectly plated crisp and colorful veggies paired with a fresh dip – it's a simple, savory and healthy snack that is ready in just minutes.  You can build a snack board to enjoy during a family movie or game night, add it to your holiday table spread, or prep it to have ready for your kiddos when they get home from school.
You don't have to be a gourmet chef to build a beautiful snack board. We've compiled our favorite Pero Family tips for quick, easy snack boards that everyone in your family will love.
TIP 1: Choose crisp, colorful veggies with lots of delicious crunch.
Scoop-able, dip-able veggies are the key to a successful snack board! Fresh, raw veggies make a delicious treat. Mix and match from this list to build a board that fits your personal taste:
Mini Sweet Peppers
Green Beans
Sugar Snap Peas
Cauliflower Florets
Broccoli Florets
Mini Cucumbers
Grape Tomatoes
Bell Peppers
Carrots
Arrange your fresh veggies by color – incorporating red, yellow, orange and white veggies can help break up the green to make your snack board appear even more vibrant!
TIP 2:
Save time on prep with our Pero Family Farms Fresh Cut Vegetables.
From our Snipped Green Beans and Sugar Snap Peas to our Organic Broccoli and Cauliflower Florets, we clean and package them to make snacking convenient! They're washed and ready to use straight out of the bag.
Bonus Tip: Our Pero Family easy veggie rinse!
When using whole veggies, like our Mini Sweet Peppers or Mini Cucumbers, be sure to clean your vegetables with a quick rinse.
In our family kitchen, we like to mix 2 cups of warm water with ¼ cup of white vinegar and 2 tablespoons of lemon juice. You can mix these ingredients together in a spray bottle. Spray all veggies evenly and allow them to sit for 2-3 minutes. Then, rinse with tap water and pat dry before chopping into bite sized pieces!
TIP 3:
Pick a creamy and savory dip to complete your snack board.
Get creative here! While a package of ranch inspired dip might be your guilty pleasure (ours too!), you can take your snack board to the next level by branching out with different savory dips. Hummus or guacamole are delicious and easy to make from scratch. Give one of these ideas from our recipe archives a try:
Buttermilk Dip from our Herb Broccoli Crudite Recipe
Sweet Fiesta Guacamole – because you can't go wrong with guac!
If you like it spicy, our Mini Sweet Pepper Buffalo Hummus Dip is for you!
The best part? Snack boards can be customized to your personal tastes! Swap out the veggies, pick a new dip, or even pair with some fruit and cheese to build a board perfectly tailored to your family.
Did you love these tips and want to try this at home? Share a photo of your snack board creation on social media and tag us @PeroFamilyFarms. We love to see your yummy, homemade meals!
Want to pick up some delicious Pero Mini Sweet Peppers, Snap Peas or Vegetable Medley for your snack board? Find Pero Family Farms products at a store near you by using our Store Locator.
More Fresh Topics