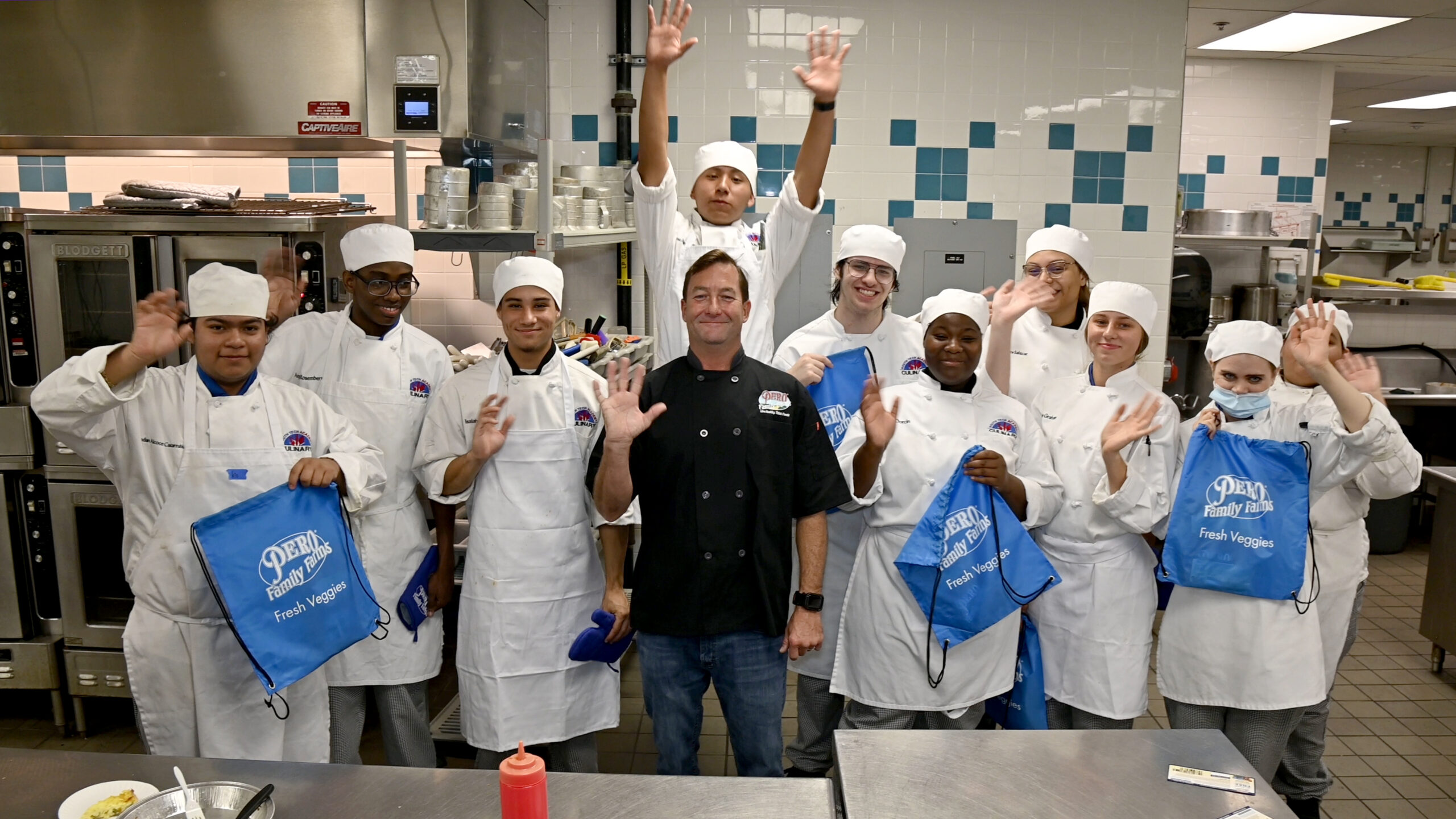 FOR IMMEDIATE RELEASE
Boynton Beach, Florida – Pero Family Farms proudly announced its recent Junior Chef Quiche Competition that was held at South Tech Academy on February 28th in Boynton Beach, Florida. The educational event was a collaboration with two classes of aspiring young chefs who competed in groups and were judged on a range of criteria including prep and cleanliness, time management skills, teamwork, taste, and plating.
While Pero Family Farms had worked with area school districts before, this was their first time hosting the event at South Tech Academy, and it proved to be a thrilling and educational experience for all involved. Chef Walter Tanner and Chef Suzanne O'Neill, the directors of the program, expressed their excitement to work with Pero Family Farms and bring the competition to the school while also learning about the important role farming played in feeding the world.
"We were honored to partner with Pero Family Farms and host this unique event for our students," said Chef Tanner. "It was a great opportunity for them to showcase their skills and learn from experienced chefs. We loved seeing what we'd learned in the classroom come to life!"
Chef Scott Seddon, the corporate Chef and Brand Manager at Pero Family Farms, hosted the competition and guided the students through the recipe construction while offering tips and advice along the way. The winners from each class were awarded a supply of vegetables from Pero Family Farms, in addition to other prizes.
"At Pero Family Farms, we are committed to promoting healthy eating and empowering the next generation of chefs," said Seddon. "We were thrilled to be a part of this event and couldn't wait to see what the students came up with using our fresh, recipe-ready vegetables."
The event was a highlight of the school year for the culinary program at South Tech Academy, and Pero Family Farms was honored to be a part of it. They hope partnerships like this will not only inspire young chefs but also encourage them to play an active role in supporting American family farms.
Media Contact:
Loren.Christofori@perofamilyfarms.com
(561) 450-1160 x2207
ABOUT PERO FAMILY FARMS: Pero Family Farms is a U.S. family-owned and operated farm Headquartered in Delray Beach, Florida and has been providing fresh, healthy, safe, and nutritious vegetables year-round to families in North America for over 115 years. With a commitment to sustainability, conservation, and innovation in farming practices, Pero Family Farms brings high-quality produce to its retail and food service customers as the number one brand of fresh Organic and Conventional Snipped Green Beans, French Beans, Organic Mini Sweet Peppers and many other popular vegetable varieties. For more information, amazing recipes, special events and more, visit www.PeroFamilyFarms.com and follow Pero Family Farms on Instagram, Facebook, and TikTok.
More Fresh Topics