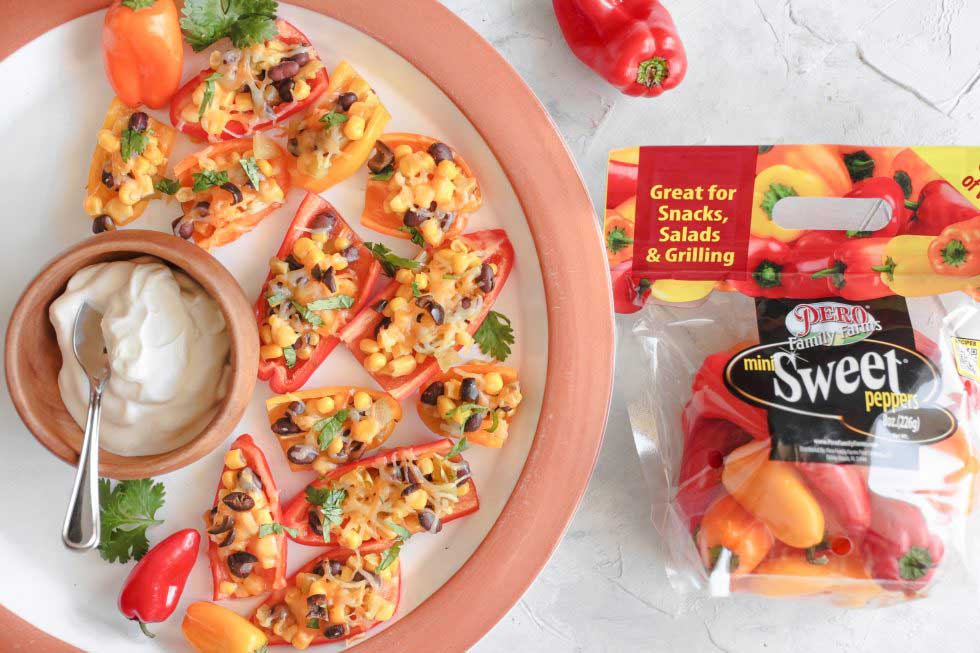 We're all looking for quick and easy snacks to whip up when that 3pm hunger hits. These simple snack recipes are healthy and full of nutritious veggies, so that you can feel good about what you're eating and fuel your body to power through your day.

Mango Quinoa Mini Sweet Peppers
Crunchy, Vitamin C packed Mini Sweet Peppers meet protein & fiber rich quinoa in this tasty recipe. You'll love the hint of mango sweetness in these bite sized snacks.
Mini Sweet Pepper Nachos
This recipe is one of our all-time favorites. You can enjoy delicious nachos that leave you feeling light and energized, while avoiding a high sodium intake. Loaded with creamy shredded cheese, fiber-full black beans and diced veggies, this snack is a winner.
Hummus Stuffed Mini Sweet Pepper Bites
Making your own hummus is easier than you think! This hummus recipe straight from our Pero Family kitchen is savory and tasty, made with delicious roasted veggies. Bonus Tip: don't have a food processor handy – or on a time crunch? Slice some fresh Mini Sweet Peppers in half and stuff with your favorite store-bought hummus.
Mini Sweet Pepper Crostini
If you're craving a warm, toasty baguette with creamy goat cheese, this recipe is for you. Topped with sautéed Mini Sweet Peppers, this perfect blend of toasty sweetness with rich, creamy cheese will feel like a decadent treat. Perfect for a Friday evening snack or pre-dinner appetizer!
Snacking can be simple, healthy – and delicious! Looking for more tasty ideas? Check out our recipe archives.
More Fresh Topics