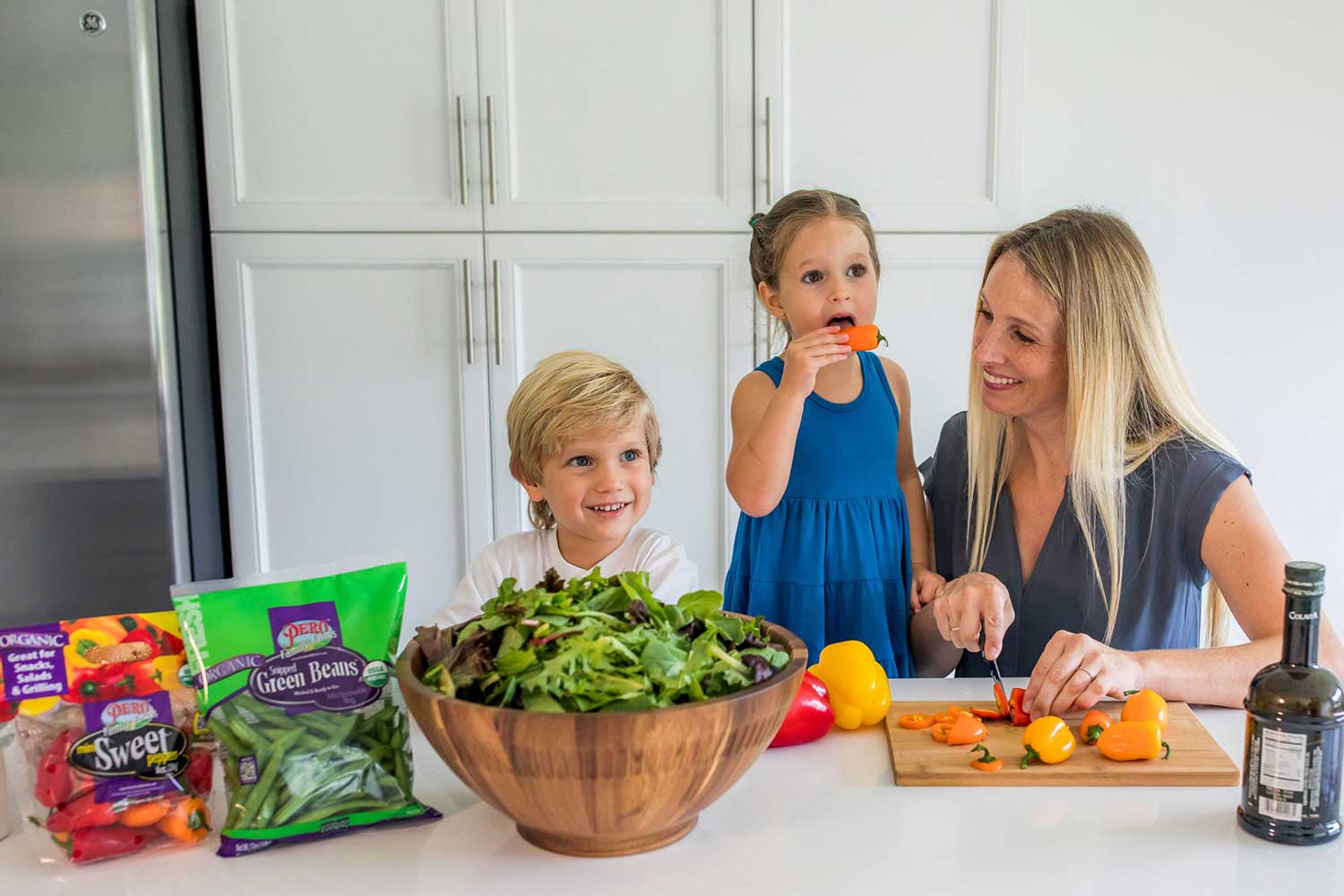 It's no secret that eating more vegetables is one of the keys to looking and feeling your best. Trying to get enough servings of veggies can seem a bit daunting. We're here to remind you that healthy eating can be delicious and easier than you think. Here are a few of our favorite tips for incorporating more servings of vegetables into your daily routine:
TIP 1:
  Swap out a few servings of carbs a week for a veggie alternative.
Do you have a soft spot for pasta? Organic Zucchini Veggie Spirals are a great alternative to your typical weeknight pasta. Pair with a delicious marinara sauce and healthy protein like ground turkey meatballs for an easy and complete meal. Or – try a quick and easy "fried rice" with our Organic Riced Cauliflower. Swapping out grains and pasta for a veggie alternative is delicious, flavorful and a simple way to eat more veggies.
TIP 2: 
Keep washed and cut veggies handy – for easy snacking on the go.
Keeping washed, cut veggies in your fridge is a great way to set yourself up for snacking success! When you've got prepped veggies ready to snack on, all you need is a dip like guacamole or hummus – and it's ready to grab and go! Did you know our fresh-cut vegetables are washed, cut and ready to use? From our Sugar Snap Peas to Broccoli Florets, we offer lots of great, ready-to-eat, packaged vegetables that make a perfect midday snack.
TIP 3:
Add Beans and Peas to soups, salads, stir-fry and more!
Plan your meals around veggie forward dishes, and don't skimp on adding extra veggies. English Peas, Green Beans or Snow Peas can all be easily added to soups and stir fry, or tossed with a simple dressing to make a fresh, flavorful salad.
TIP 4:
When shopping, look for the freshest, high-quality veggies.
Buying vegetables in season, at their peak freshness is an important part of enjoying your veggie-filled meals. At Pero Family Farms, we grow and harvest vegetables on our over 35,000 acres of family owned farmland. We wash, trim and package our vegetables – and deliver them to your favorite local store, providing the most fresh and delicious vegetables for your family meals. Families trust Pero Family Farms products, because of our superior freshness, quality and taste. With over 100 years of family farming experience, we're committed to providing you with the highest quality vegetables. You can find Pero Family Farms products at a store near you by using our Store Locator.
More Fresh Topics