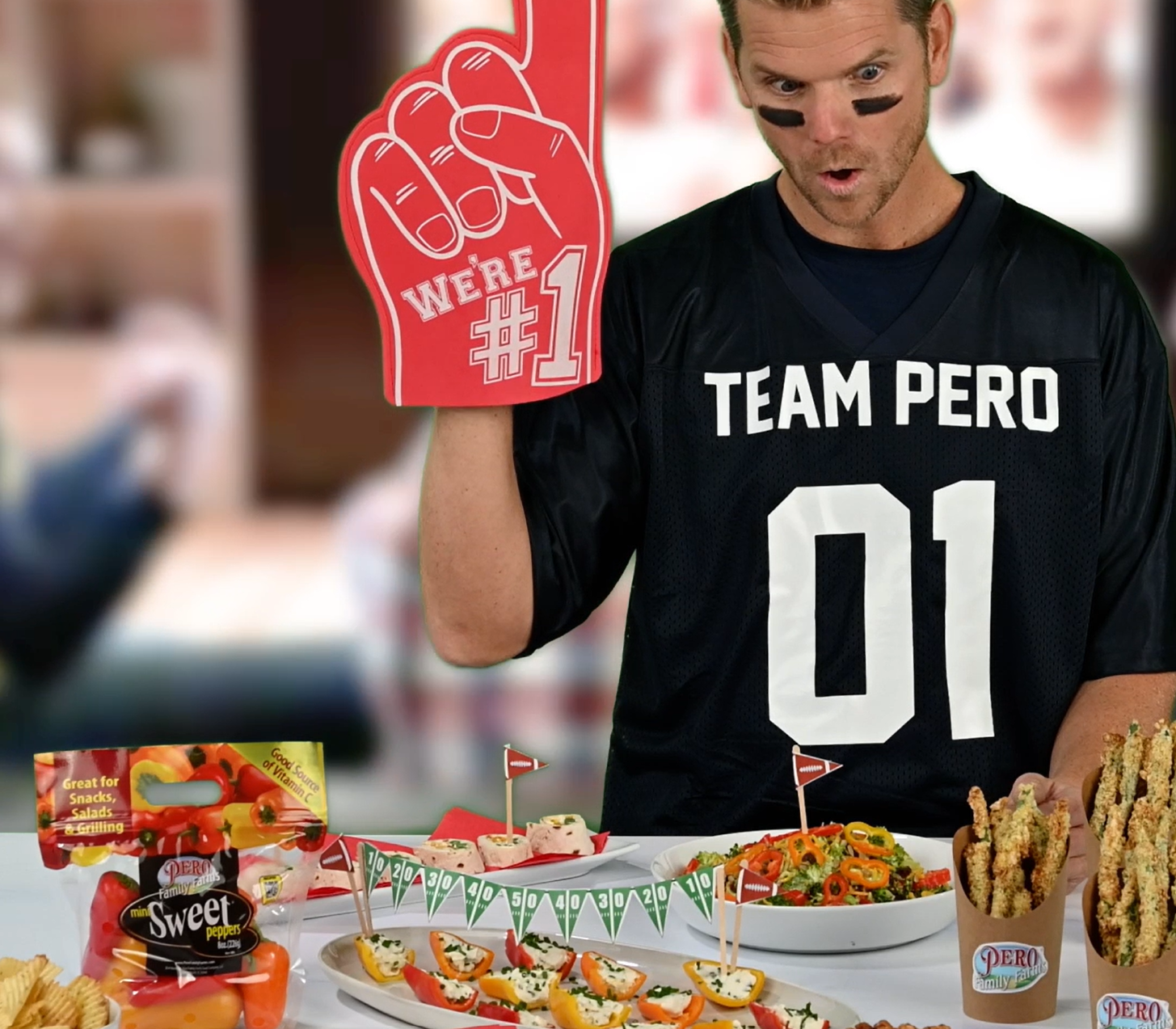 It's February…and the BIG Game is right around the corner! What better way to celebrate than by enjoying delicious appetizers with friends and family? But with so many high-calorie, high-fat snack options out there, it can be hard to make snacking a little healthier. At Pero Family Farms, we believe that snacking can be both delicious and nutritious, which is why we have come up with some healthier appetizer options that feature our fresh, high-quality vegetables.
Mini Sweet Pepper Poppers: Crunchy, and healthy, these bite-sized appetizers are perfect for snacking on during the big game. Just stuff  your Pero Family Farms Mini Sweet Peppers with a mixture of cream cheese and your favorite herbs and spices, then bake until crispy.
Green Bean Fries: This is a great way to use Pero Family Farms Snipped Green Beans for a healthy french fry alternative. Toss the beans in a mixture of flour, egg, and breadcrumbs, then fry until crispy. Serve with your favorite dipping sauce.
Vegetable Medley Skewers: Skewers are another great way to use up any leftover vegetables you have on hand. Simply skewer a variety of vegetables, like Pero Family Farms Mini Sweet Peppers, Cauliflower, and Broccoli Florets, season or marinate, then grill or bake until tender.
Vegetable Slaw: This refreshing and crunchy side dish is a great way to lighten up your traditional coleslaw recipe. Use a bag of Pero Family Farms Vegetable Slaw, then toss with your favorite light vinaigrette dressing.
Mini Sweet Pepper Chips: Craving something crunchy and crisp? Swap out your normal chips for some crunchy Pero Family Farms Mini Sweet Peppers. Slice in half lengthwise and serve with your favorite dips!
All of these appetizers are a great way to make snacking a little healthier during the Big Game. By using Pero Family Farms vegetables, you can be sure that you're getting the freshest, highest-quality ingredients. What are your plans for this Sunday? Make sure you tag us in all your great appetizer photos on Social Media using @perofamilyfarms, plus check out our recipe page, here to get more great ideas for your next get together! www.perofamilyfarms.com/gameday/
More Fresh Topics