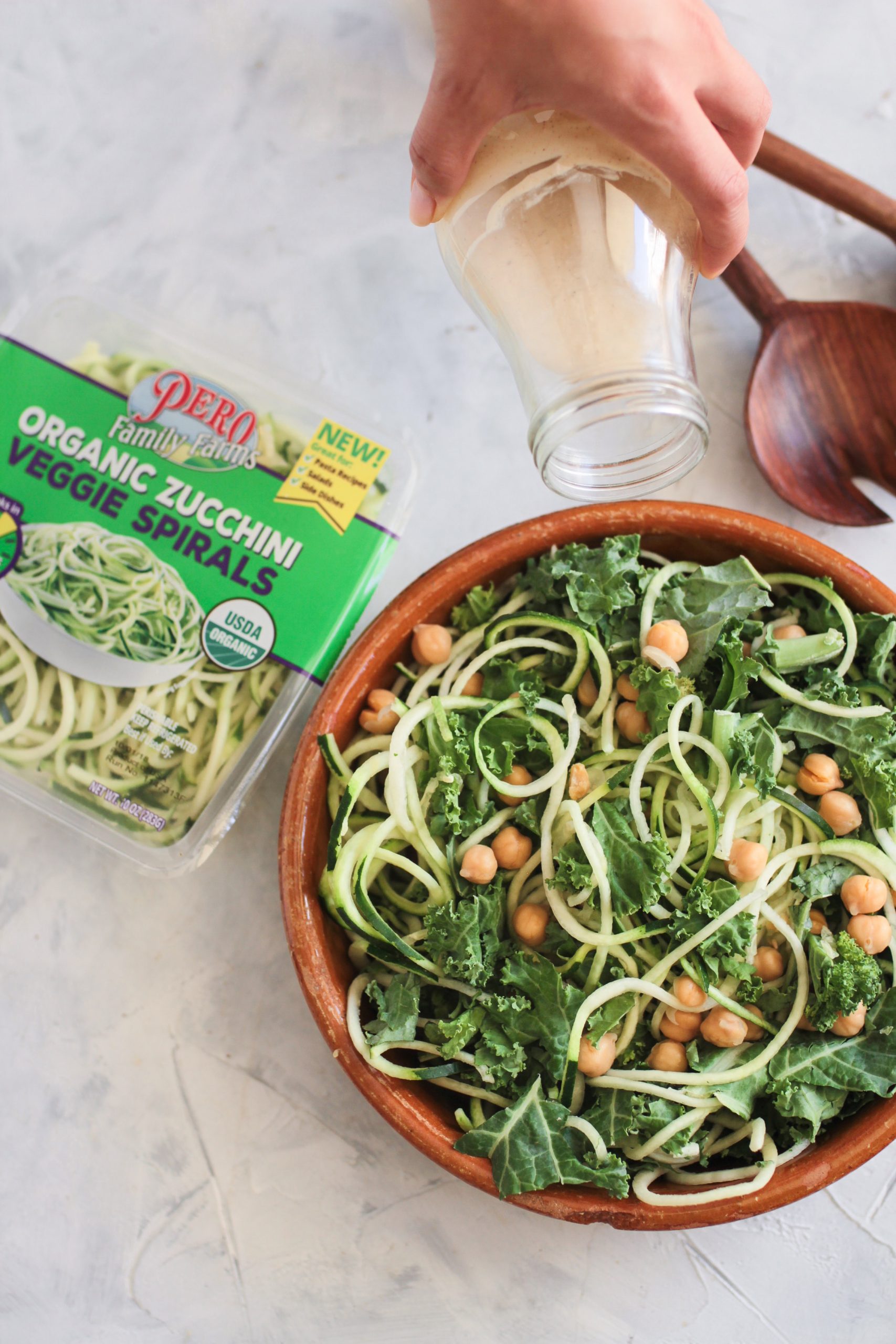 Zucchini Spiral and Kale Caesar Salad
Flavor Profile | CRUNCHY | CREAMY
A classic salad with a twist! This yummy Zucchini Spiral and Kale Caesar Salad is paired with a better for you Caesar dressing and filled with lots of crunchy textures!
What You Need
Ingredients
10oz.  Pero Family Farms Organic Zucchini Spirals  
4-5  cups Chopped Curly Kale – rinsed and dried  
1 cup Canned No Sodium Chickpeas/Garbanzo Beans – rinsed and drained well
Caesar Dressing:
1/3-1/2  cup Greek Plain Yogurt 
2  tbls  Fresh Lemon Juice 
1 Garlic Clove –optional 
2 tsp Anchovy Paste 
2 tbls Extra Virgin Olive Oil 
1 tsp Dijon Mustard 
3 tbls Milk – to make the dressing more liquidy add more milk 
¼-1/3 cup Finely Grated Parmesan Cheese  
1/2  tsp  Sea Salt 
¼ tsp Black Pepper
What You Need
Lets Get Started
Directions
For the salad rinse and dry the chopped curly kale well. Add the kale, zucchini spirals, and rinsed and drained chickpeas into a salad bowl. Add a few pinches of salt and pepper to the bowl and toss gently together.
In a bowl add in all the salad dressing ingredients. Using a whisk mix everything together well. Garnish with salad with the ½ cup Caesar dressing and toss the salad together for 4 servings of the zucchini spiral kale Caesar salad. Serve.
Get More Recipes
Visit this recipe page:
https://www.perofamilyfarms.com/recipe/zucchini-spiral-and-kale-caesar-salad/
Find a store location near you: