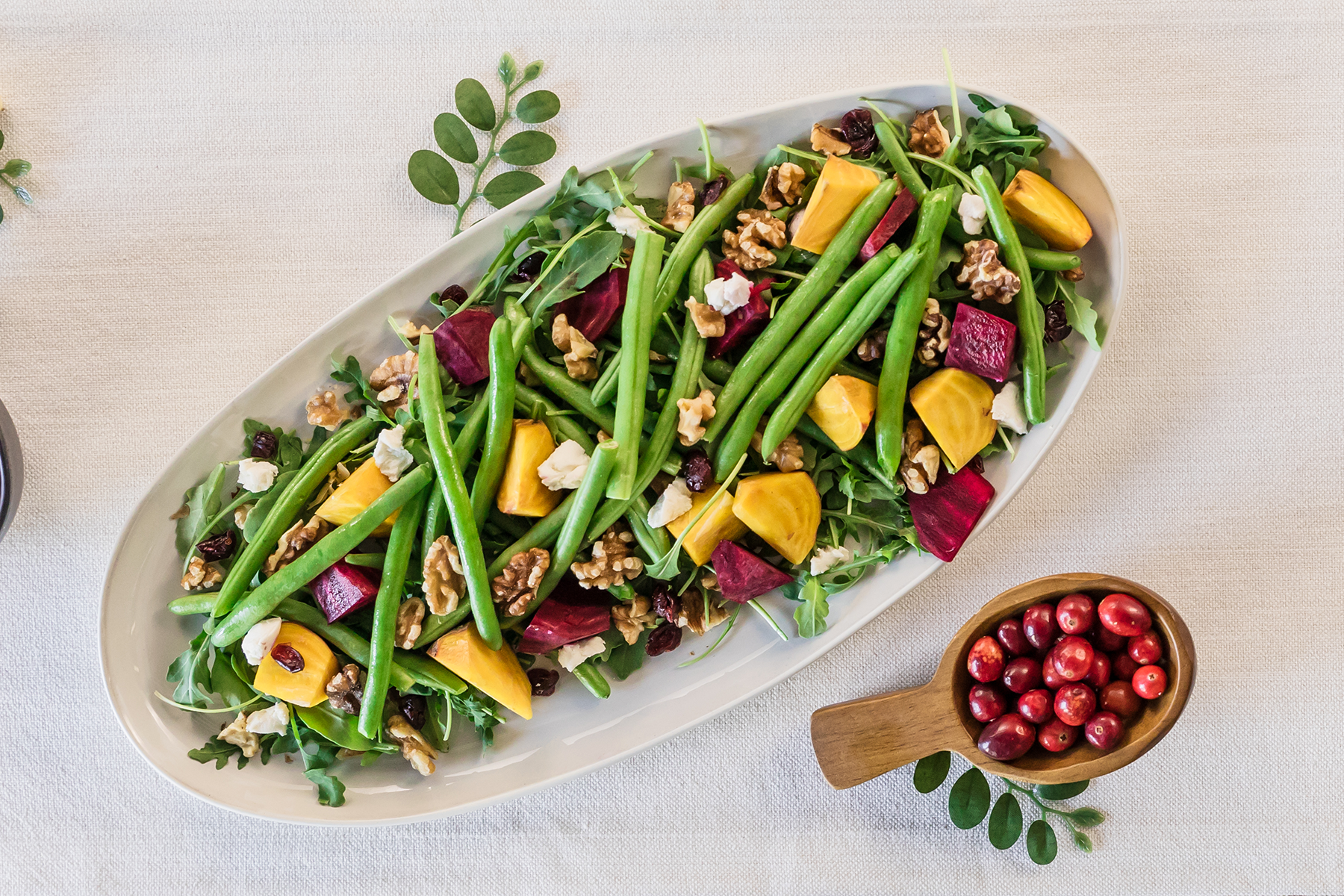 Roasted Green Beans and Beet Salad
Flavor Profile | CRUNCHY
Bring home the best ingredients this holiday season and gather around this delicious Roasted Green Beans and Beet Salad topped with Goat Cheese.
What You Need
Ingredients
12oz. Pero Family Farms Organic Snipped Green Beans
½ cup cleaned cut yellow beets
½ cup cleaned cut red beets
½ cup Pero Family Farms Mini Sweet Pepper Rings
½ cup walnuts
½ cup goat cheese
1 tbsp. dried cranberries
1 tbsp. Olive oil
Cranberry sage finishing sauce
1 cup fresh cranberries
½ cup honey
1 cup water
1 tbsp. fresh sage, chopped
1 tbsp. lemon juice
1 tbsp. brown sugar
½ tbsp. cornstarch
Salt and pepper, to taste
What You Need
Lets Get Started
Directions
Preheat the oven to 400 and place beets and beans in a roasting dish and sprinkle olive oil and salt and pepper over the top.
Roast for 20-30 minutes or until the vegetables reach your desired texture.
Top the vegetables with walnuts, goat cheese and cranberry sage finishing sauce.
CRANBERRY SAGE FINISHING SAUCE
In a small pot add cranberries, honey, lemon juice, sage, brown sugar, and water mix well and bring to a boil.
Once the cranberries are tender reduce heat to medium and mash with a fork. Take 2 tbsp. of the sauce and in a separate bowl mix in the cornstarch and combine completely.
Add the cornstarch mixture into the sauce pan and mix well.
Add salt and pepper to taste.
Get More Recipes
Visit this recipe page:
https://www.perofamilyfarms.com/recipe/roasted-green-beans-and-beet-salad/
Find a store location near you: