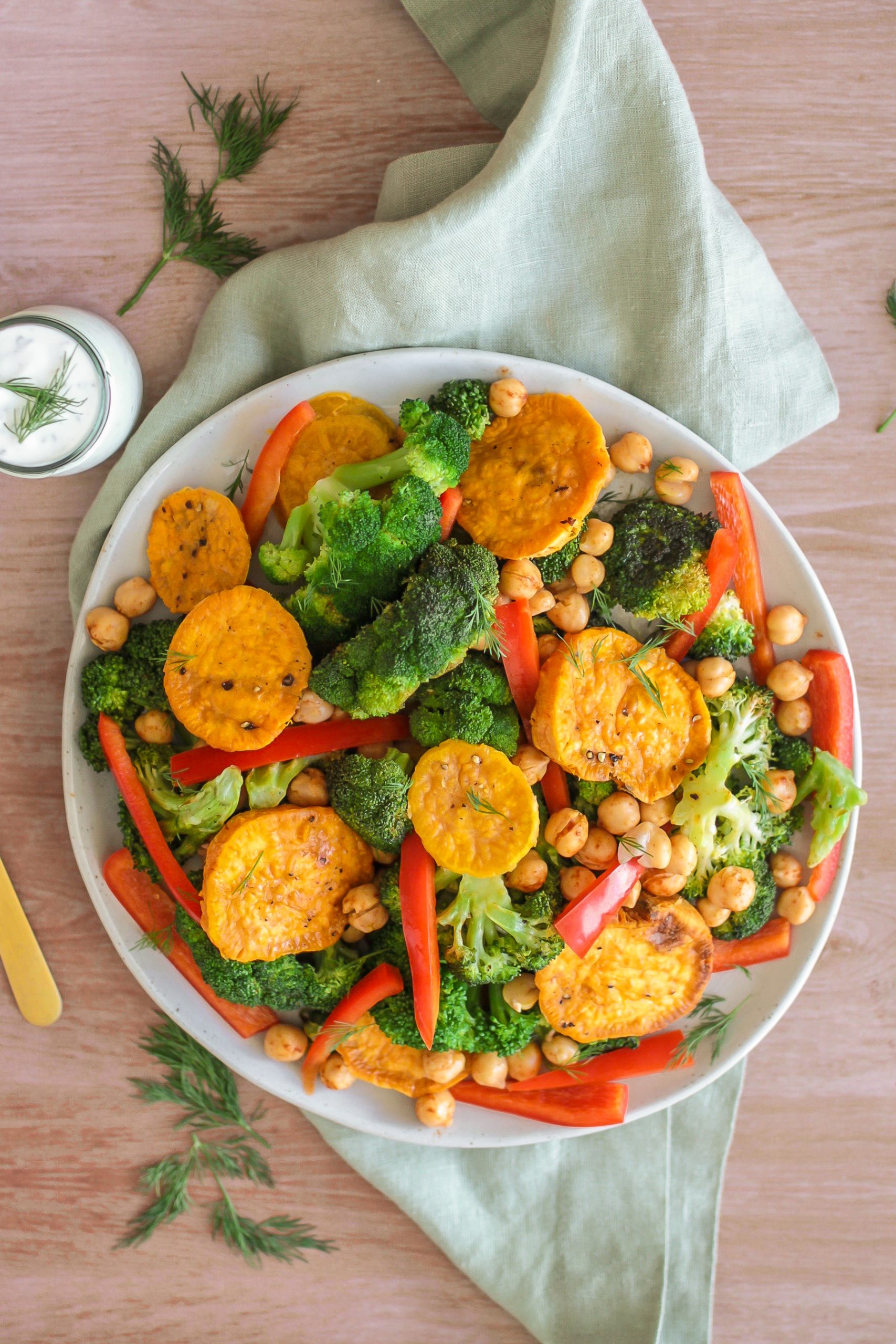 Roasted Broccoli Sweet Potato & Chickpeas
Flavor Profile | CRUNCHY | SWEET
You won't want to miss out on this delicious Roasted Broccoli & Sweet Potato Side Dish! Made with our crunchy Broccoli Florets and sweetened by the Sweet Potato rounds, this side dish is bursting with flavor and paired with a tasty cream dill sauce.
What You Need
Ingredients
1 ½ cups Pero Family Farms Mini Sweet Peppers, seeded and halved
1 small Red Bell Pepper – cut into strips
½ cup No Sodium Chickpeas, rinsed and drained
1-2 tsp Paprika
1 small/medium Sweet Potato, cut into rings
2 tsp fresh dill
1 TBLS Olive Oil
1 tsp Sea Salt
¼ tsp Black Pepper
Dill Dressing
¼ cup Store-bought Hummus
2 TBLS Plain Yogurt
2 TBLS Sour Cream
2 TBLS Fresh Dill, minced
3 TBLS Fresh Lemon Juice
¼ tsp Garlic Powder
A bit of water to thin the dressing
A pinch or 2 of salt
What You Need
Lets Get Started
Directions
Preheat the oven to 375 degrees. Line 2 a baking sheet with foil or parchment paper.
While the oven preheats steam as directed on the bag the broccoli for 2 minutes. Once steamed carefully remove the broccoli from the bag and place on one of the lined baking sheets. Roast the broccoli for 10-12 minutes just until it becomes slightly crispy on the tip of the floret.
Slice the sweet potato into ¼ inch rounds and place on the other lined baking sheet. Lightly drizzle olive oil, salt, and pepper over the sweet potato. Roast the sweet potato in the oven for 15 minutes or until tender.
While the sweet potato and broccoli roast rinse and drain well the chickpeas. Place the chickpeas on a sauté pan on the stove over medium heat and let them cook without any other ingredient for 4 minutes. Then add the paprika and ½ tsp olive oil. Season with salt and pepper then the heat can be turned off. Once the chickpeas are warmed and seasoned place them in a bowl.
Add the roasted broccoli, raw red bell pepper strips, and roasted sweet potato into a bowl. Add a bit of fresh dill, ½ tsp salt, and ¼ tsp black pepper. Mix everything together. Place this on a serving dish.
To prepare the dressing add all the ingredients in a bowl and whisk together. If the dressing is too thick thin it out by adding water. Pour this dressing over the dish and serve.
Get More Recipes
Visit this recipe page:
https://www.perofamilyfarms.com/recipe/roasted-broccoli-sweet-potato-chickpeas/
Find a store location near you: