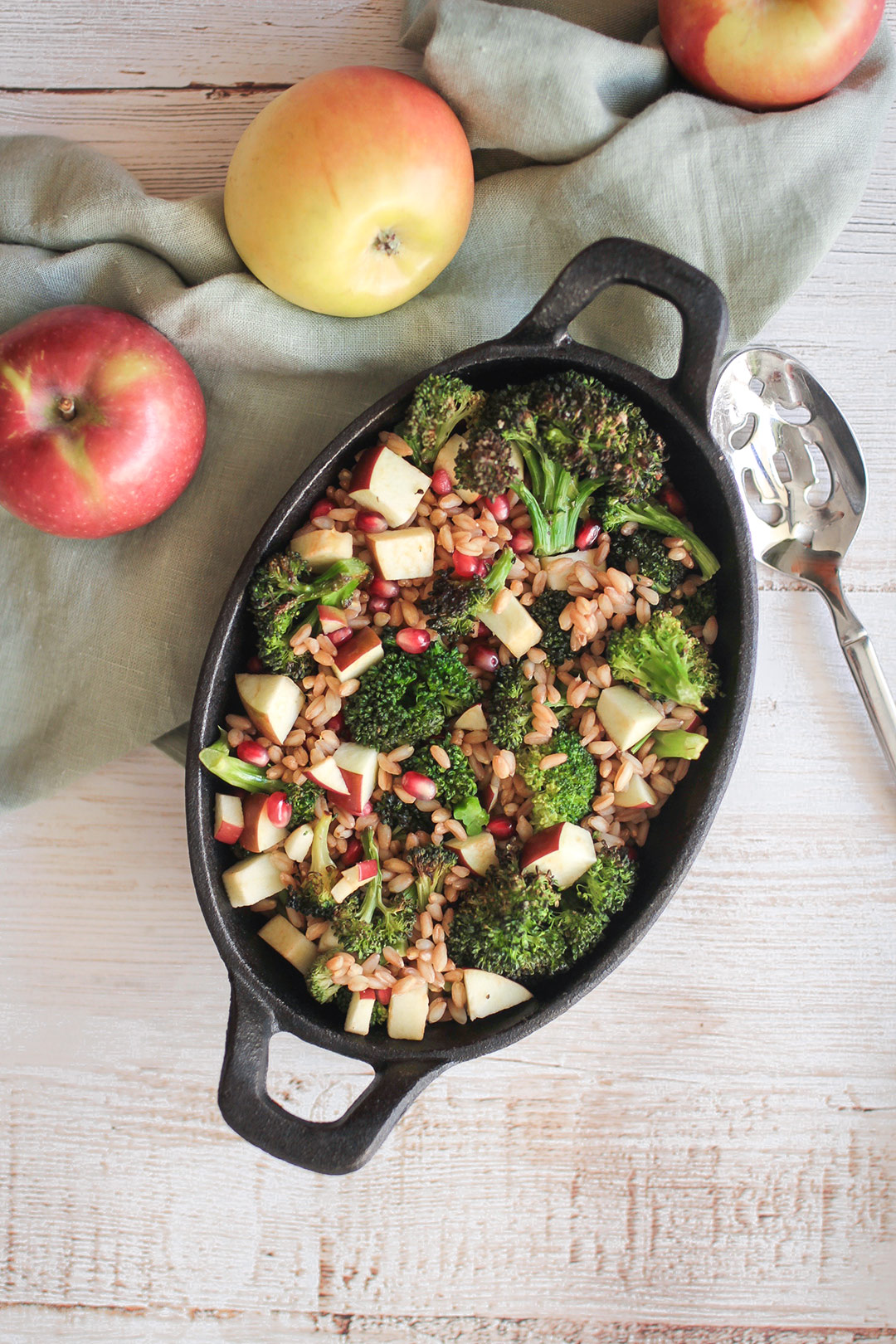 Roasted Broccoli Farro Pomegranate
Flavor Profile | GRAINY | SWEET
Eating healthy during the holidays doesn't have to be boring! Try this yummy Broccoli Farro Pomegranate Apple Salad for a little taste of autumn! Made with our Organic Broccoli Florets for easy prep and great crunch!
What You Need
Ingredients
1 bag Organic Pero Family Farms Broccoli Florets
3 tbls Olive oil
¼ cup Pomegranate Seeds
1 Fuji Apple, small dice
1/2 cup Farro, uncooked
1 tsp Sea Salt
¼ tsp Black Pepper
½ tsp Lemon Juice
½ tsp Apple Cider Vinegar
What You Need
Lets Get Started
Directions
To prepare the farro, place farro in a sauce pan with equal parts water (1/2 cup). Add a dash or two of salt. Bring this to a boil. Once at a boil reduce heat to low and cover the sauce pan. Allow this to cook for 15 minutes. Once the farro has cooked fluff it with a fork and place it into a bowl.
Preheat the oven to 375 degrees. Toss the Broccoli Florets into a bowl with 1 Tablespoon of olive oil and a few pinches of salt and pepper. Coat the broccoli well. Pour the Broccoli onto a baking pan and roast the broccoli for 12-15 minutes, until the edges begin to char lightly.
To assemble the dish, place all the ingredients: cooked farro, roasted broccoli, pomegranate seeds, diced apple, olive oil, lemon juice, and apple cider vinegar and salt and pepper. Gently toss the ingredients together to coat it all together. Serve warm or room temperature.
Get More Recipes
Visit this recipe page:
https://www.perofamilyfarms.com/recipe/roasted-broccoli-farro-pomegranate/
Find a store location near you: