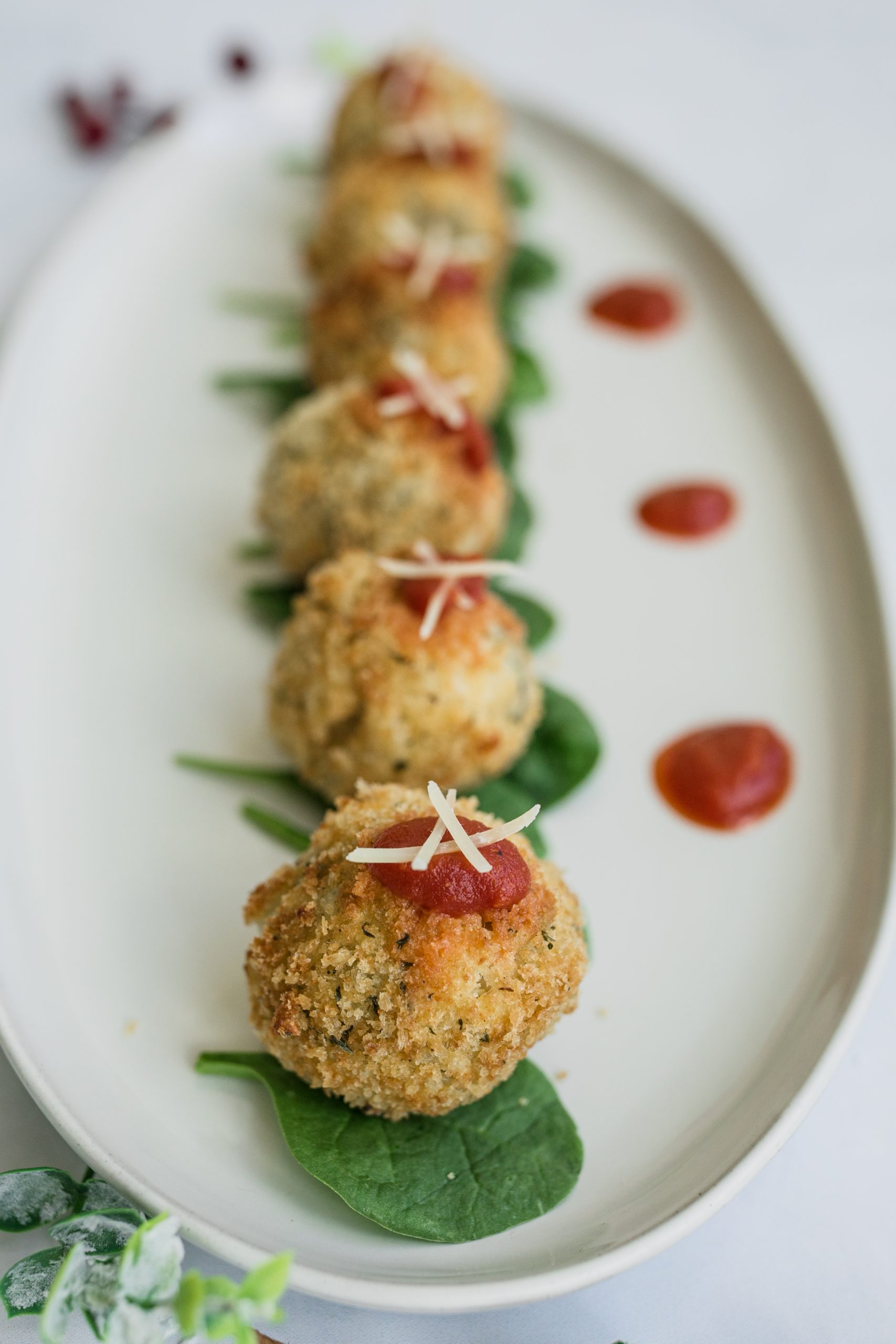 Riced Cauliflower Poppers
Flavor Profile | CRUNCHY | CHEESY
These deliciously cheesy Riced Cauliflower Poppers are an appetizer you won't want to miss out on this holiday season! They are easy to make and the kids won't even know veggies are hidden inside!
What You Need
Ingredients
10oz. Pero Family Farms Organic Riced Cauliflower
1 cup marinara sauce
½ cup spinach
½ cup parmesan cheese
1 tbsp. flour
1 tbsp. olive oil
1tsp. onion powder
1tsp. garlic powder
Salt and pepper, to taste
For the breading
2 cups vegetable oil
1 ½ cups panko breadcrumbs
1 cup flour, seasoned with 1 tbsp. Italian seasoning
1 cup eggs, whisked smooth
What You Need
Lets Get Started
Directions
Preheat a sauté pan with 1 tbsp. of olive oil to medium high temperature.  Add the riced cauliflower, spinach, garlic powder, onion powder, salt, and pepper.  Cook for 3 minutes or until slightly soft.
Add the flour and cheese and mix well.  Once cool, make small balls out of the rice mixture.
To coat the riced balls roll them in the seasoned flour mixture, then into the egg then finally into the breadcrumbs.  Preheat the vegetable oil to medium-high temperature.
Carefully place the riced balls into the hot oil with a slotted metal spoon.  Cook for 2 minutes or until golden brown.
Serve with your favorite marinara sauce.
Get More Recipes
Visit this recipe page:
https://www.perofamilyfarms.com/recipe/riced-cauliflower-poppers/
Find a store location near you: