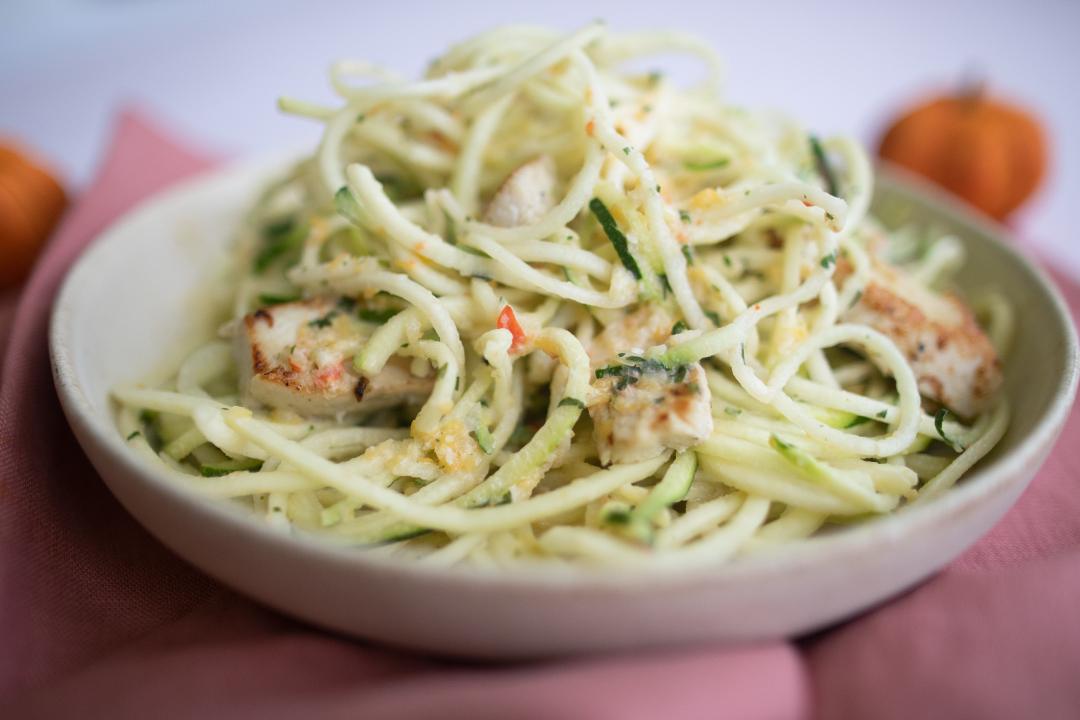 Pumpkin Pesto Veggie Spirals
Flavor Profile | SAVORY
Pesto Pasta is a classic dish, and we're mixing it up with the rich flavor of roasted pumpkin! Try this lightened up Pumpkin Pesto recipe, featuring our delicious, low-carb Zucchini Veggie Spirals.
What You Need
Ingredients
10oz. Pero Family Farms Zucchini Veggie Spirals
4 oz. chicken breast, grilled
¼ cup roasted pumpkin
¼ cup parmesan cheese
1 ½ tbsp. pine nuts
1 ½ tbsp. fresh basil, chopped
1 ½ tbsp. olive oil
1 tbsp. fresh sage, chopped
½ tbsp. fresh garlic, chopped
Salt and pepper, to taste
What You Need
Lets Get Started
Directions
First, make the Pumpkin Pesto. In a food processor, add the roasted pumpkin, parmesan cheese, pine nuts, basil, sage, garlic, olive oil, salt and pepper.
Pulse until the mixture is smooth and blended.
Heat a large sauté pan to medium-high temperature.
Next, add 2 tbsp. of the pumpkin pesto to the pan and quickly add the Zucchini Veggie Spirals.
Cook and mix well for 3 minutes or until the vegetables are cooked to your desired texture.
Serve with grilled chicken to complete the meal.
Get More Recipes
Visit this recipe page:
https://www.perofamilyfarms.com/recipe/pumpkin-pesto-veggie-spirals/
Find a store location near you: