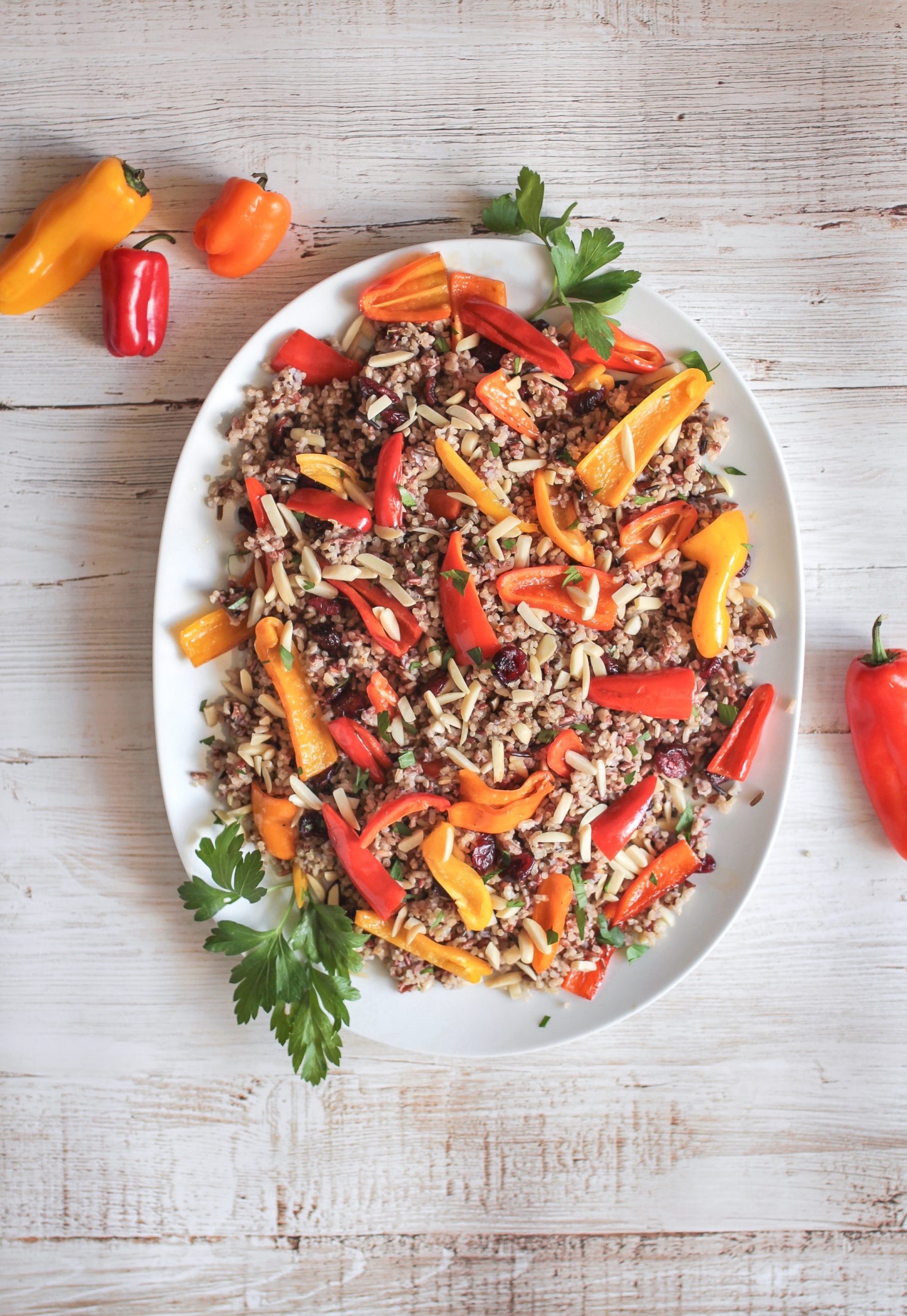 Flavor Profile | HEARTY | SWEET
Satisfy your fall craving with this delicious Cranberry Almond Mini Sweet Pepper Pilaf! Filled with a variety of grains and sweetened by our Mini Sweet Peppers.
What You Need
Ingredients
1 ½ cups Pero Family Farms Mini Sweet Peppers, seeded and halved
2 tbls Olive oil
2/3 cup Slivered Almonds
½ cup Dried Cranberries
1 ½ cups Mixed Grains (red rice, brown germinated rice, barley)
½ cup White Quinoa
2 cups Water
2 tsp Sea Salt
½ tsp Black Pepper
¼ cup Flat Leaf Parsley, minced for garnish
What You Need
Lets Get Started
Directions
Prepare the pilaf grains first by adding 1 tbls of the olive oil to a sauce pan. Add in the grains, water and 1 tsp of sea salt. Bring the pot to a boil. Once boiling reduce heat to low, cover the pot, and allow the grains to cook for 25 minutes.
For the Mini Sweet Peppers remove the tops, seeds, and cut the Mini Sweet Peppers in half. In a saute pan add the remaining 1 tbls of olive oil over medium heat. Add the halved mini sweet peppers and a pinch or 2 of salt and pepper. Let the Mini Sweet Peppers cook for 5-8 minutes until their color has become brighter and their fragrance fills the air. Turn the heat off and place the cooked Mini Sweet Peppers into a bowl.
Once the mixed grain pilaf has cooked use a fork to fluff. Add the cooked grains to the bowl with the cooked Mini Sweet Peppers. Mix in the dried cranberries, slivered almonds, and the minced flat leaf. Add a touch more salt and pepper to season the dish and serve.
Optional to add a protein. Keep in the refrigerator in an airtight container for up to 5 days. Freezer friendly for up to 2 months.
Get More Recipes
Visit this recipe page:
https://www.perofamilyfarms.com/recipe/mini-sweet-pepper-pilaf/
Find a store location near you: