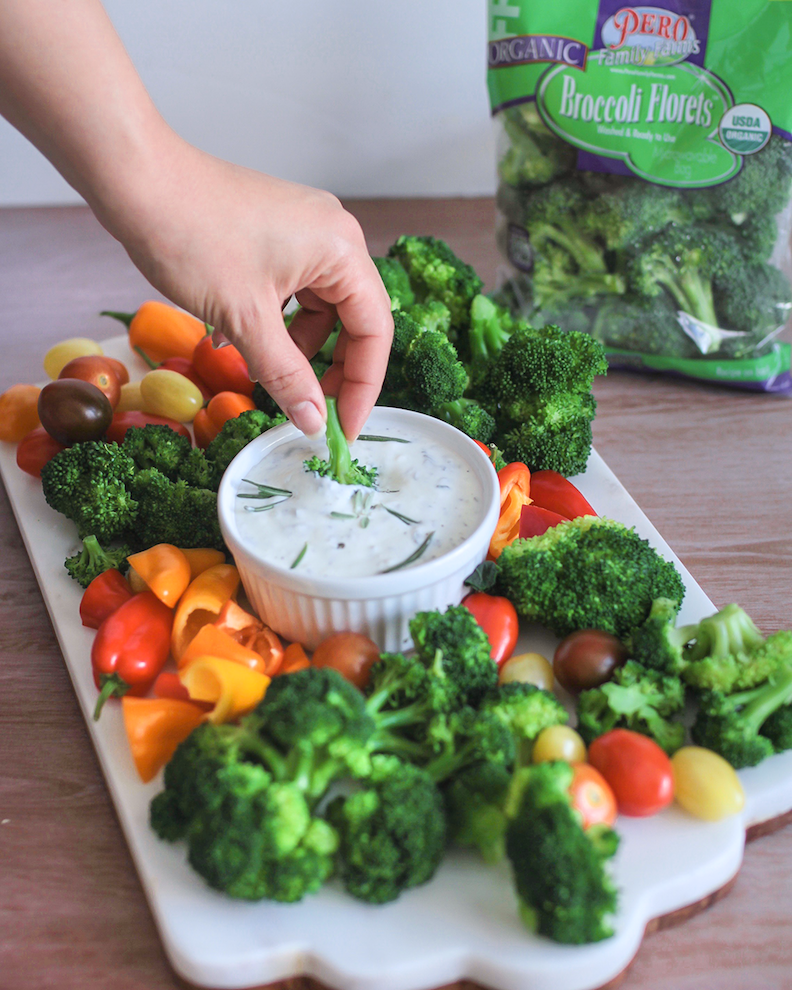 Flavor Profile | CRUNCHY
Fancy up your appetizers with these Mini Sweet Pesto Christmas Croustades! They can be put together in just minutes!
What You Need
Ingredients
2 bags Pero Family Farms Organic Broccoli Florets
2 TBLS Extra Virgin Olive Oil
2 pinches Dried Thyme
1 pinch Dried Parsley
Grape Tomatoes
Pero Family Farms Mini Sweet Peppers
Buttermilk Dip
½ cup Sour Cream
¼ cup Buttermilk
1 tsp Fresh Rosemary, minced
1 tsp Fresh Sage, minced
1 tsp Fresh Thyme, minced
½ tsp Sea Salt
A pinch of Pepper
½ tsp Lemon Juice
What You Need
Lets Get Started
Directions
Bring a pot of water to a rapid boil. Once at a boil carefully blanch the organic broccoli florets. Let them blanch for 3-4 minutes. Once blanched carefully remove the broccoli florets from the water and place them in a boil. Let them cool for 5 minutes before dressing them.
While the broccoli florets blanch and cool slightly whisk together the extra virgin olive oil and dried herbs. Once the broccoli florets cooled for 5 minutes place the floret top gently in the herb mixture and then place the broccoli onto the crudité board. Repeat until all the florets have been lightly coated with the herb dressing.
Assemble the remaining ingredients on your crudité board.
To make the buttermilk dip add the ingredients for the dip into a bowl. Whisk it very well so that it is well mixed. Pour this buttermilk dip into a serving dish and place on your crudité board.
Serve and Enjoy!
Get More Recipes
Visit this recipe page:
https://www.perofamilyfarms.com/recipe/herb-broccoli-crudite/
Find a store location near you: