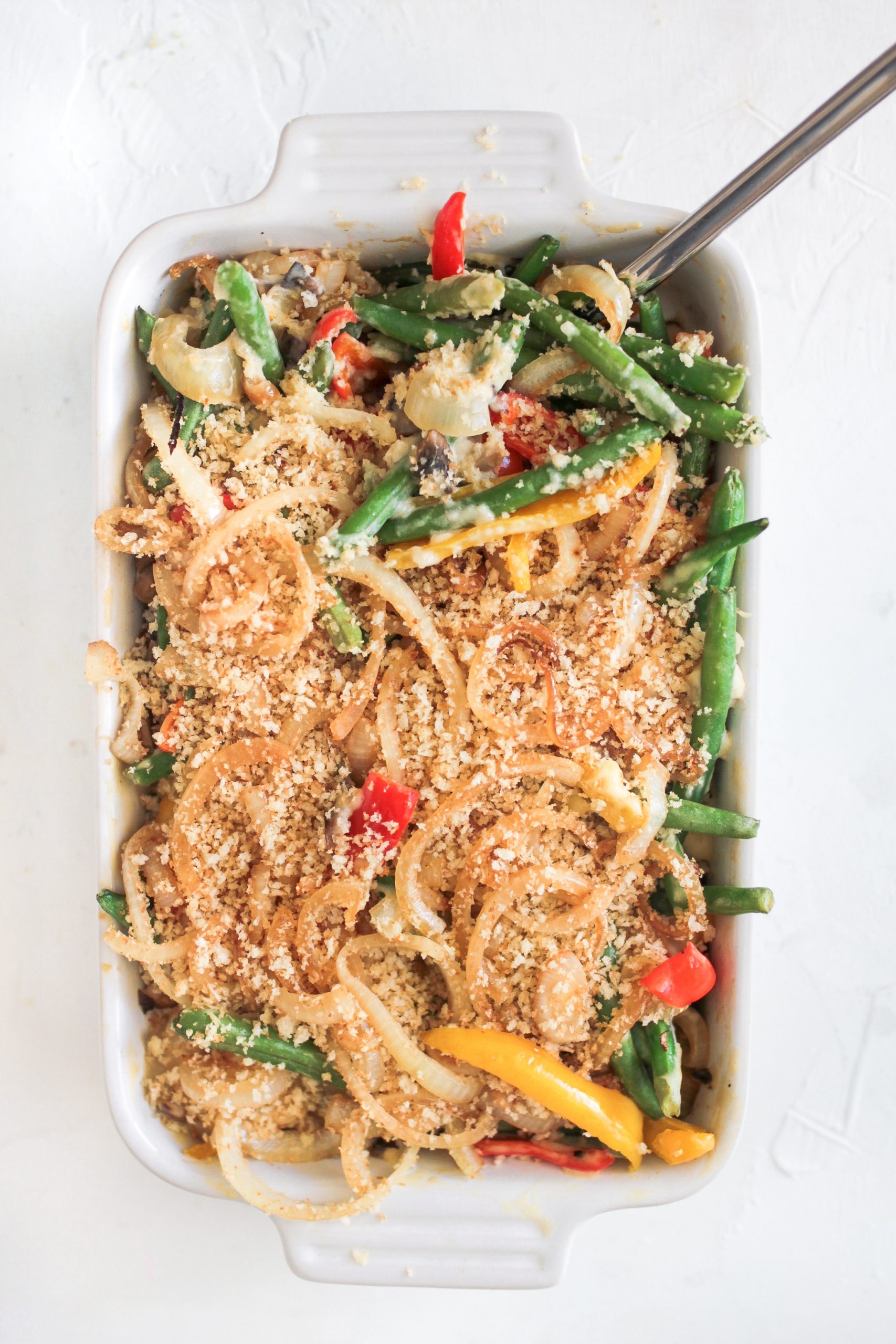 Green Bean and Mini Sweet Pepper Veggie Casserole
Flavor Profile | CRUNCHY | SWEET
Combining our two favorites, Mini Sweet Peppers and Green Beans and turning it into a colorful, flavorful casserole is our kind of dinner!
What You Need
Ingredients
12oz. Organic  Pero Family Farms Green Beans
1 cup Pero Family Farms Mini Sweet Peppers, tops removed, seeded, and sliced  
½ Yellow Onion, sliced  
½ cup Button Mushrooms, chopped  
1 Garlic Clove, minced  
1  tbls  Olive Oil 
½ tsp Sea Salt  
A few pinches of black pepper
Sauce
1 tbls Butter  
2- 2.5 tbls All Purpose Flour  
2/3-3/4 cup Milk 
2 pinches of salt  
A pinch of black pepper
Crispy Onion Topping 
1 small/medium Yellow Onion, sliced  
½ cup Panko Bread Crumbs  
3 tbls Grated Parmesan Cheese  
1 tsp Olive Oil or Butter  
1/2 tsp Sea Salt
What You Need
Lets Get Started
Directions
Begin by preheating the oven to 375 degrees.
On the stove top with a large sauté pan the 1 TBLS of olive oil over medium heat.
Add in the ½ sliced onion and a pinch of salt and let this cook for 3-4 minutes. Then add in the sliced mini sweet peppers, green beans, and mushrooms. Add a pinch of salt and pepper and let this cook for 7-8 minutes on medium heat.
Once the vegetables have cooked remove the sauté pan from the stove top. To prepare the sauce, heat the olive oil or butter in a sauce pan over medium heat. Once the olive oil or butter is hot adding in the flour and whisk together. Then carefully pour in the milk, salt, and pepper.
Stir everything together and bring it to a light boil for the sauce to thicken. Once the sauce has thickened remove the sauce pan from the stove top and carefully pour this over the cooked vegetables and toss together. Add the sauced vegetables into a casserole or oven proof baking dish.
For the crispy topping use a medium sauté pan. Heat the olive oil or butter over medium heat, once hot add the onions with a pinch or 2 of salt to allow them to sweat. Let the onions cook for 4-5 minutes.
Then add the panko bread crumbs to the sauté pan and stir everything together. Do not worry the panko will not perfectly adhere to the onions.
Once the panko has lightly cooked for 2-3 minutes turn the heat off, toss in the grated Parmesan cheese, stir together and pour the crispy topping over the casserole.
Bake the casserole for 20-25 minutes and then serve.
Get More Recipes
Visit this recipe page:
https://www.perofamilyfarms.com/recipe/green-bean-and-mini-sweet-pepper-veggie-casserole/
Find a store location near you: