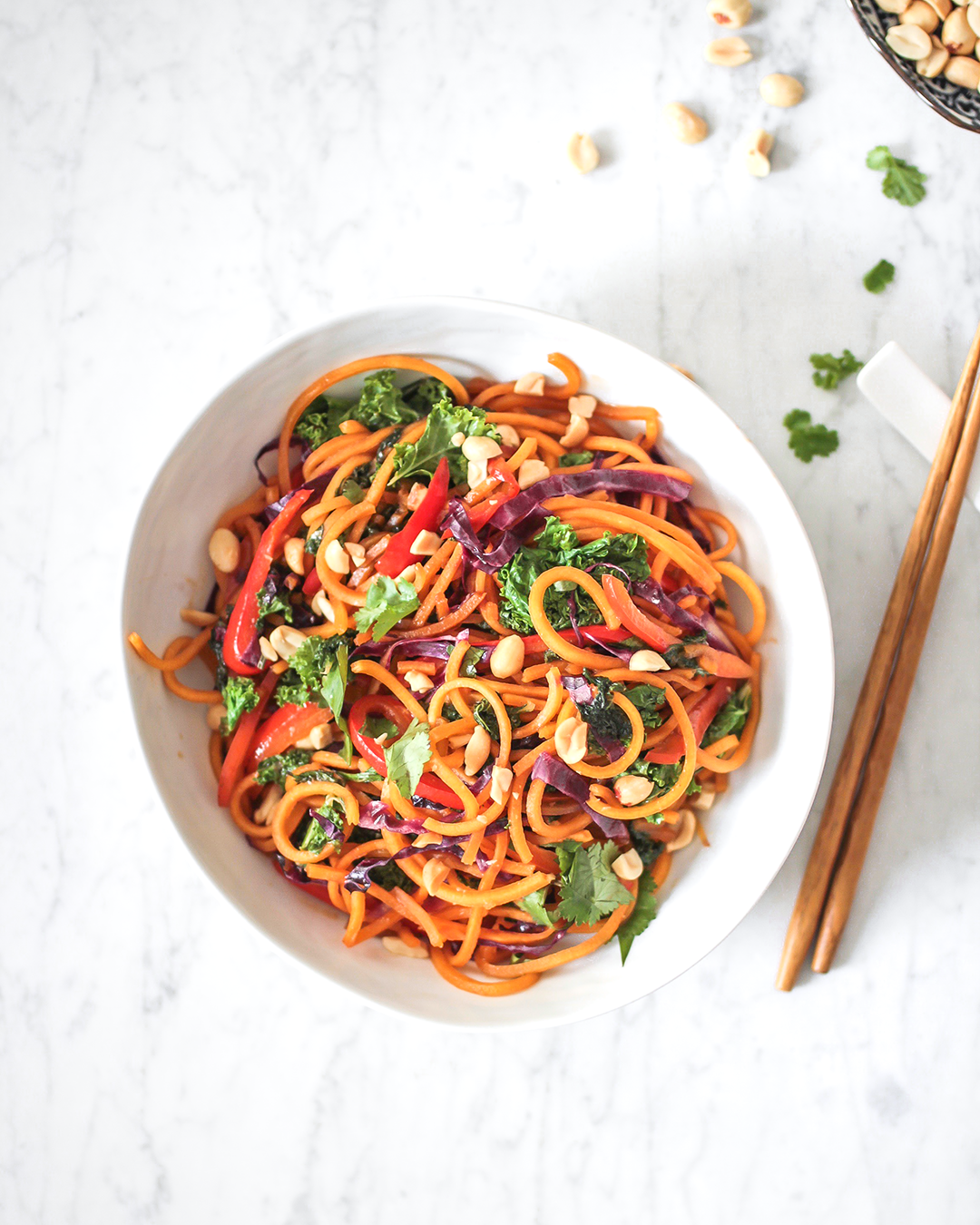 Butternut Squash Spirals Peanut Pad Thai
Flavor Profile | CRUNCHY
This Butternut Squash Spirals Peanut Pad Thai recipe is filled with flavor and is a "noodle" dish you don't have to feel guilty about! Our already spiraled Butternut Squash adds a crunchy sweetness.
What You Need
Ingredients
1 Pero Family Farms Butternut Squash Spirals
½ cup Shredded Purple Cabbage
½ cup Red Bell Peppers, sliced
1 cup Curly Kale, chopped
2-3 TBLS Unsalted Peanuts, halved or chopped
1 tsp Sesame Oil
Peanut Pad Thai Sauce
1 TBLS Apple Cider Vinegar
½ cup Creamy Organic Peanut Butter
½ cup Water, more for a thinner sauce
1-2 tsp Honey
2 TBLS Soy or Tamari sauce
½ lime, juiced
1-2 Garlic cloves
½ tsp Sesame Oil
2 tsp Fresh Cilantro
Fresh Cilantro and Peanuts for garnish (optional)
What You Need
Lets Get Started
Directions
To prepare the Pad Thai Sauce, place all the ingredients for the sauce in a blender, Blend until smooth. This sauce will keep in an airtight container for up to 2 weeks in the fridge,
In a wok or large sauté pan heat sesame oil over medium/high heat. Add butternut squash spirals. Allow for the spirals to cook for 4-5 minutes. Once cooking add cabbage, red bell peppers, and curly kale. Season with a few pinches of salt and pepper. Stir occasionally and allow the vegetables to cook for 5 minutes.
Add 1 tablespoon at a time the peanut pad thai sauce coating all the ingredients in the sauce. Repeat adding the the sauce 2 more times until the butternut squash spirals are well coated and the dish is cooked.
Garnish with fresh cilantro and peanuts.
Get More Recipes
Visit this recipe page:
https://www.perofamilyfarms.com/recipe/butternut-squash-spirals-peanut-pad-thai/
Find a store location near you: