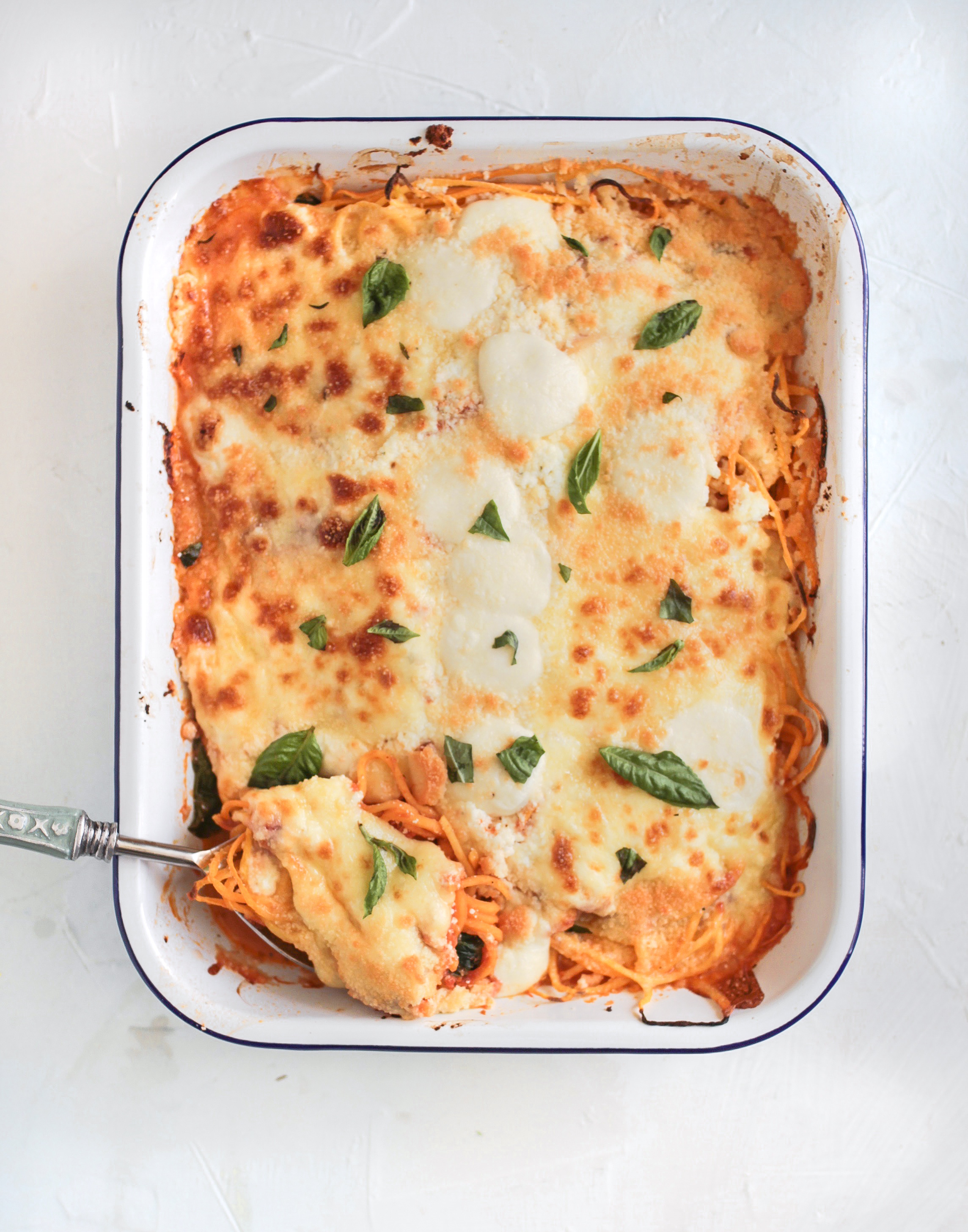 Baked Butternut Squash Spirals
Flavor Profile | CHEESY | SAVORY
This delicious Baked Butternut Squash "Pasta" is a healthy twist on your classic lasagna! With all of the yummy lasagna flavors, our Butternut Spirals are a great substitute for pasta.
What You Need
Ingredients
2 Pero Family Farms Butternut Squash Spirals
1 ½ cups Marinara Sauce
10 oz. Spinach Bag
1  tbs  Olive Oil
2/3 cup Shredded Mozzarella Cheese
1 15 oz. container of Whole Milk Ricotta
1 tsp  Dried Basil
½ tsp  Dried Oregano
½ tsp Garlic Powder
½ tsp Onion Powder
1 tsp sea salt
1/4  tsp  Black Pepper
1 1/2 cup Shredded Mozzarella for Garnish or 6-8 Mozzarella Slices
1/3-1/2 cup Grated Parmesan Cheese for Garnish
Fresh Basil for Garnish
What You Need
Lets Get Started
Directions
Preheat the oven to 350 degrees.
Meanwhile on the stove top add ½ tsp of the olive oil into a sauté pan over medium heat. Sauté the spinach until just wilted and a pinch of salt and pepper. Once the spinach is cooked place in a separate bowl and let it cool. When the spinach has cooled carefully drain the excess water. Season the wilted and drained spinach with a pinch or 2 of salt and pepper. Again using the same sauté pan add in the marinara sauce and bring it to a light boil to help reduce the excess water. Let it boil for 5 minutes.
To cook the butternut squash spiral place in the microwave according to the directions on the package. Cook for 2 ½-3 minutes until steamed and softened. Carefully remove the butternut squash spirals with tongs and place in a bowl to cool slightly.
In a bowl add in the ricotta, 2/3 cup shredded mozzarella, garlic, onion powder, and dried herbs. Using a spatula mix well.
To assemble use a 13.5 x11 baking dish. Layer the bottom with marinara sauce. Topping with ½ the spinach scattered about. Top with half of the butternut squash spirals. Add 2/3ds of the ricotta mixture spread over the spirals. Begin the next layer with spinach scattered over the ricotta cheese. Top the spinach with the remaining spirals and add ½ cup of the marinara sauce over the spirals. Top with the rest of the 1/3 of ricotta. Garnishing the top of the baked spiral "pasta" with the shredded or sliced mozzarella cheese.
Bake the spiral dish for 20 minutes. Once it has baked for 20 minutes carefully remove the baking dish and top with the grated Parmesan cheese and change the setting of the oven to broil. Pop the baking dish back into the oven for 5-7 minutes until the cheese becomes slightly golden on top.
Carefully remove the spiral "pasta" bake and serve. *Optional to add ground beef, pork, or chicken and/or crumbled sausage to this dish.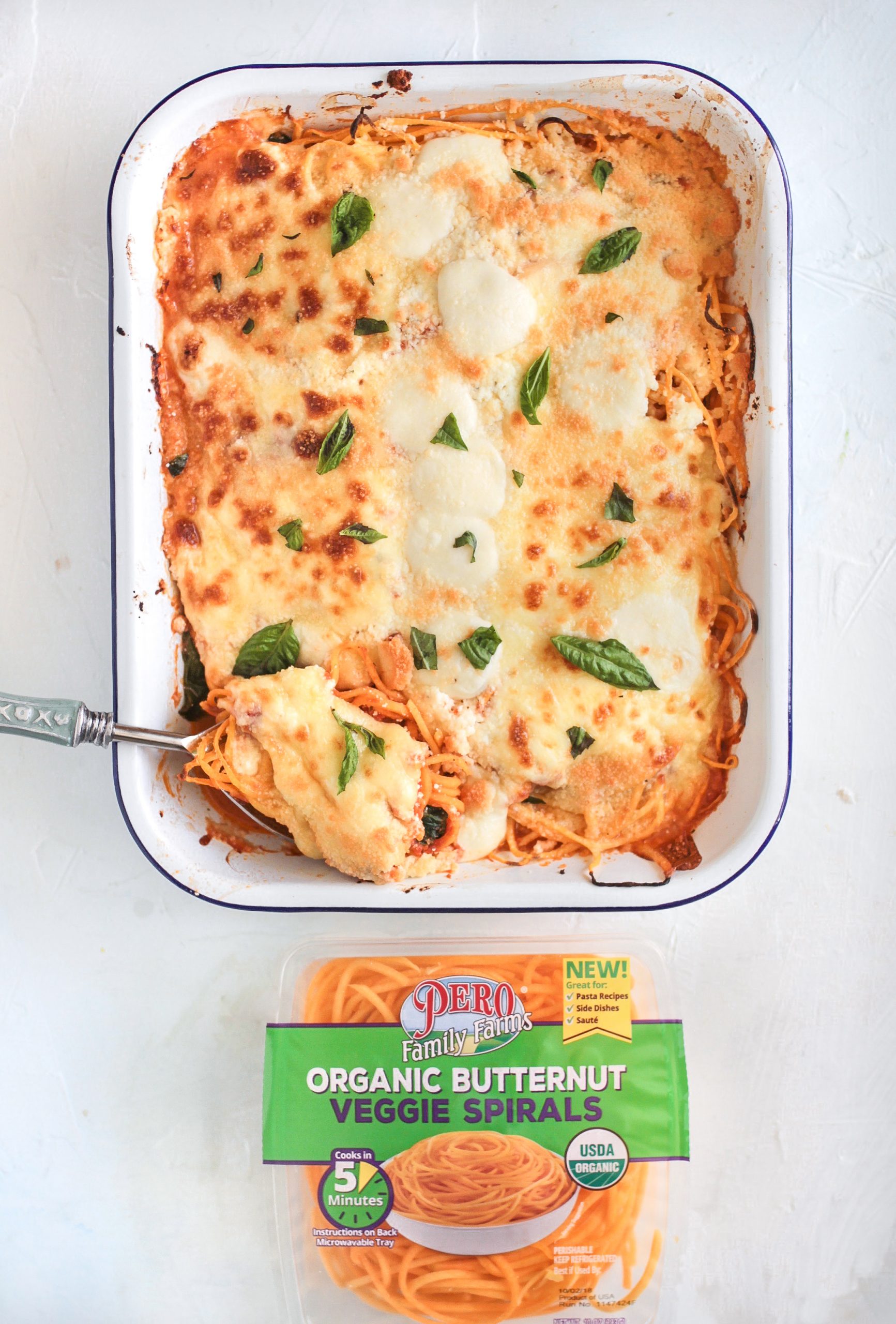 Get More Recipes
Visit this recipe page:
https://www.perofamilyfarms.com/recipe/baked-butternut-squash-spirals/
Find a store location near you: