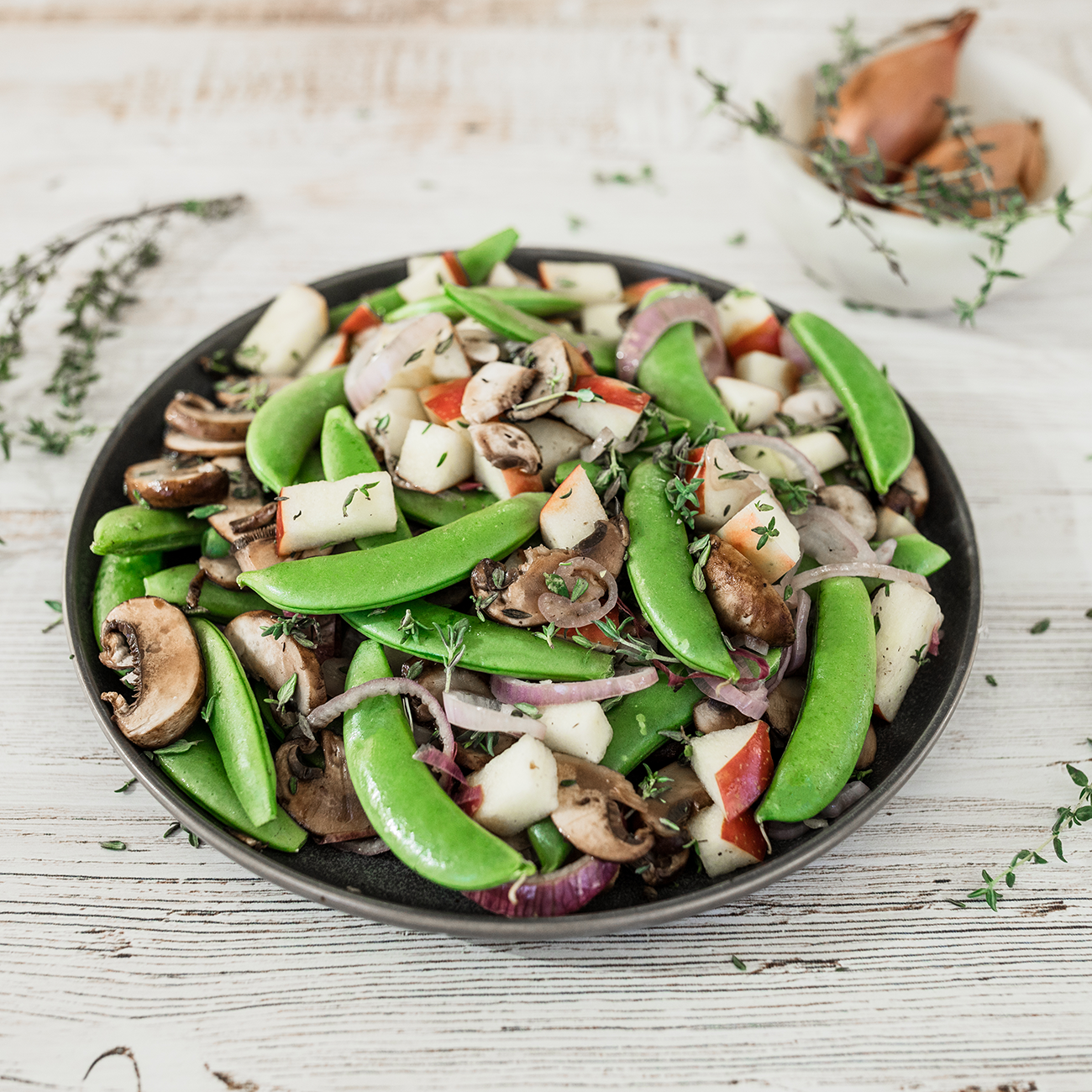 Flavor Profile | CRUNCHY | HEARTY
Get in the spirit of Autumn with this delicious 10 minute Autumn Sugar Snap Pea recipe! Made with our crunchy Sugar Snap Peas, mushrooms, and apples for sweet flavors!
What You Need
Ingredients
8oz. Pero Family Farms Sugar Snap Peas
¾ cup apples, diced
½ cup mushrooms, sliced
¼ cup shallots, sliced thin
1 tbsp. fresh thyme, chopped
1 tbsp. olive oil
1 tbsp. apple cider vinegar
Salt and pepper, to taste
What You Need
Lets Get Started
Directions
Prepare the quinoa according to the directions on the package. Once cooked leave to the side.
To make the sweet and sour sauce add all the ingredients into a sauce pan. Turn the heat on medium and whisk everything together. Make sure to break up all the brown sugar granules. Let the sauce come to a light boil and let this cook for 7-10 minutes. The sauce should reduce slightly and begin to thicken.
Meanwhile to prepare the the vegetables, add the oil of choice into a sauté pan over medium heat. Add the onions with a pinch of salt to let them sweat. Once the onions are translucent add the mini sweet peppers and pineapple, stir everything together. Let this cook for 5-7 minutes over low/medium heat.
When the sauce has reduced and thickened, remove the fresh pineapple from the sauce if used. If not pour half of the sauce over the mini sweet pepper and pineapple. Stir together the let this cook together for 1-2 minutes. Turn the heat off and serve the sweet and sour mini sweet peppers over the quinoa. The remaining sweet and sour sauce can be drizzled over each serving or used for dipping.
Get More Recipes
Visit this recipe page:
https://www.perofamilyfarms.com/recipe/autumn-sugar-snap-peas/
Find a store location near you: