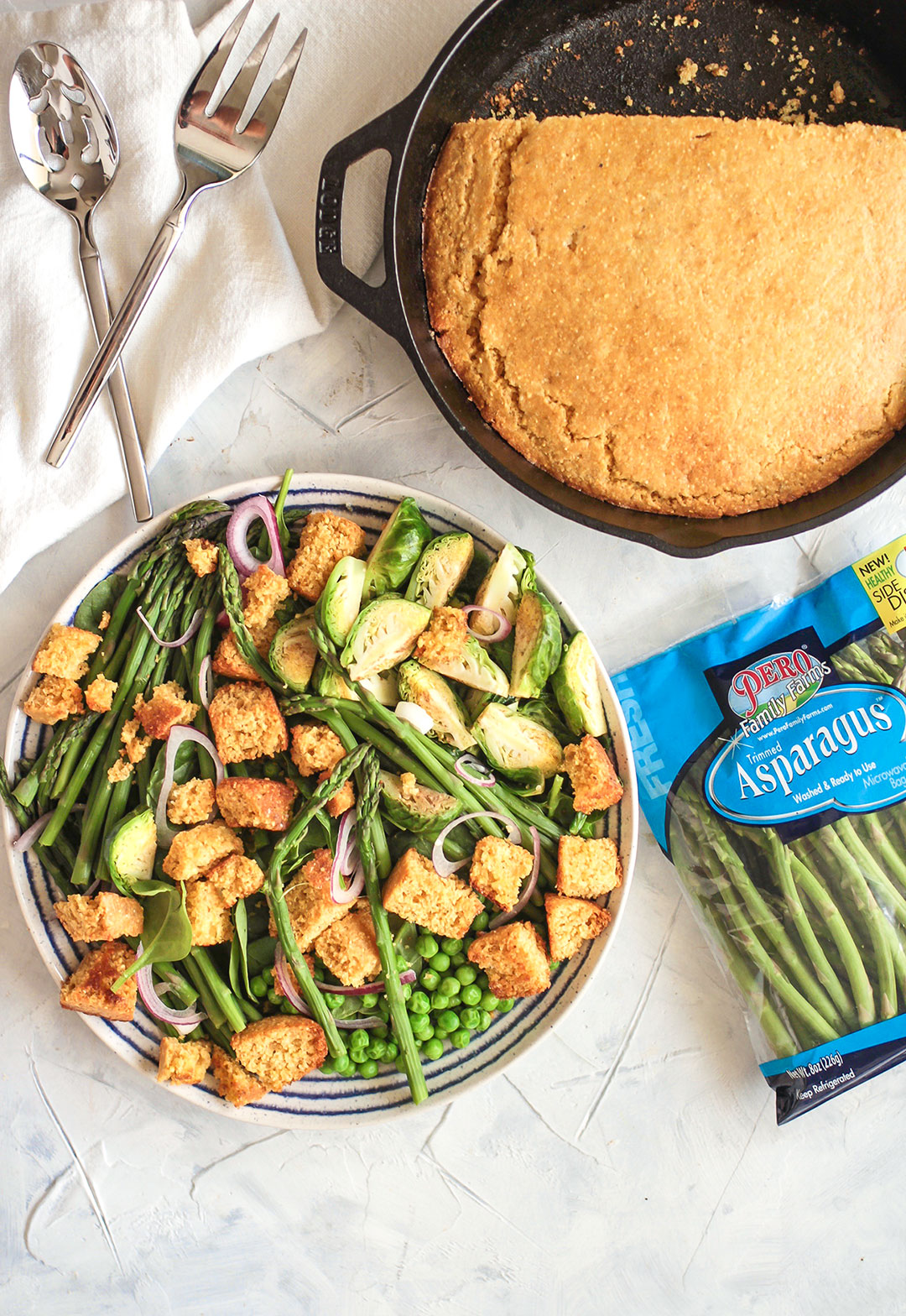 Asparagus Cornbread Panzanella Salad
Flavor Profile | SAVORY
This fall take on a panzanella salad is filled with flavor in each bite. The crispy cornbread "croutons" throughout the sea of vegetables is a perfect healthy light salad for the fall and winter months! Made with our Trimmed Asparagus for easy prep and yummy flavor!
What You Need
Ingredients
1 bag Pero Family Farms Asparagus, steamed and cooled
2 cups Baby Spinach
½ cup Pero Family Farms Peas, steamed and cooled
½ cup Pero Family Farms Brussels Sprouts, quartered (optional to serve raw or cooked)
½ small Red Onion, thinly sliced, rinsed, and dried
½ cup Cornbread, cubed and toasted
1 tbls Olive oil
½ tsp Sea Salt
¼ tsp Black Pepper
Honey Dressing
1 tbls Honey
4 tbls Extra Virgin Olive oil
2 tsp Balsamic Vinegar
1 tbls Red Wine Vinegar
Skillet Cornbread 
1 cup Ground Corn Meal
1 cup All Purpose Flour
½ tsp Baking Soda
½ tsp Sea Salt
1 stick Unsalted Butter, room temperature
½ cup Cane Sugar
2 Large Eggs, room temperature
¾ cup Whole Milk or Buttermilk
What You Need
Lets Get Started
Directions
Preheat the oven to 425 degrees. Using the skillet cornbread recipe cut the cornbread into small cubes. Toss the cornbread cubes with olive oil. Place on a baking tray and toast the cornbread for 15-20 minutes. Remove and allow them to cool before serving.
Steam vegetables and allow them to cool a bit.
To remove the pungent flavor of raw onions, thinly slice the red onion and rinse them under cold water for minute or two. Once you have rinse the red onions dry them well with a paper towel. Add the red onions into a bowl along with the peas, brussels sprouts, asparagus, and spinach. Lightly season with salt and pepper.
To make the dressing use a separate bowl and whisk together the honey, extra virgin olive oil, balsamic vinegar and red wine vinegar. Pour this over the vegetables in the bowl and gently toss the salad together.
Once the toasted cornbread has cooled add into the salad bowl and toss everything together and serve.
SKILLET CORNBREAD
Preheat the oven to 400 degrees.
In a bowl mix together with a spatula the sugar, butter, and eggs until well combined. In a separate bowl whisk together the dry ingredients.
Add in half of the dry ingredients and half of the milk into the bowl with the mixed butter, sugar, and eggs. Mix until a batter is formed. Add in the remaining dry ingredients and milk. Mix well and make sure there are no clumps. Pour the batter into a 10inch skillet pan.
Bake the cornbread for 20-25 minutes until golden. Remove the skillet from the oven and allow the cornbread to cool for 10 minutes before serving.
Get More Recipes
Visit this recipe page:
https://www.perofamilyfarms.com/recipe/asparagus-cornbread-panzanella-salad/
Find a store location near you: